This new initiative will be dedicated to the development, manufacture and marketing of hydrogen generators by electrolysis
Enagás Emprende has set up the company H2Greem to promote the development, manufacture and marketing of hydrogen generators using electrolysis through its own PEM technology (Proton Exchange Membrane). This new start-up aims to become a benchmark boutique in Spain for medium-size electrolysers.
The competitive advantage of H2Greem lies in its capacity to carry out both the manufacture of all the components of the electrolysers and the assembly of these, generating a comprehensive value proposition, hitherto non-existent in the Spanish market.
H2Greem will begin its activity by supplying the electrolysers for the project to inject green hydrogen into the natural gas network, which is being carried out at Enagás' regasification plant in Cartagena.
The launch of H2Greem has been carried out following Enagás' intra-enterprise model, through Enagás Emprende, which as a novelty on this occasion has incorporated outside talent to spearhead the project.
At the time of its formation this start-up team comprises Mario Carrero, director of R&D for more than 10 years in sector companies and an expert in the design and manufacture of PEM electrolysers, and one person from the Enagás Emprende team of professionals who will be in charge of accelerating the new project.
With this milestone, 14 companies have already invested in Enagás Emprende's portfolio, which highlights the importance of hydrogen as an energy solution in the decarbonisation process and of renewable gas as a priority area of interest, according to its investment thesis, conducted in accordance with the company's strategy.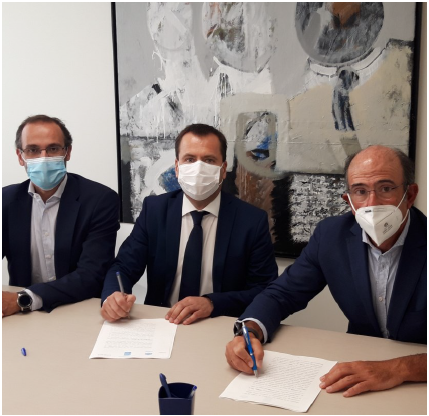 From left to right.: Sergio García, Mario Carrero y Marcelino Oreja at the founding of H2Geem.